Practice discipline, not self denial.
Yogi Bhajan's quote for today.
Meditation: NM0394 – Live Above Denial
See Previous reading
See Related
Tao Te Ching – Verse 71 – Not-knowing is true knowledge. Presuming to know is a disease.
Read the text from Richard Wilhelm's, Thomas Cleary's, Brian Arnold's and other translations of the I Ching
60 – Sixty  Chieh / Limitations
Waters difficult to keep within the Lake's banks:
The Superior Person examines the nature of virtue and makes himself a standard that can be followed.
Self-discipline brings success; but restraints too binding bring self-defeat.
SITUATION ANALYSIS:
Cultivating the proper disciplines and the proper degree of discipline are the concerns of this hexagram.
By limiting options, you may give more attention to priorities.
One who is all over the map is no less lost than one without a map.
Avoid asceticism, however.
Deprivation is not wise discipline.
The key here is regulation, not restriction.
Six at the top means:
Self-discipline teetering toward self-destruction.
An empty martyrdom.
Turn back.
Galling limitation.
Perseverance brings misfortune.
Remorse disappears.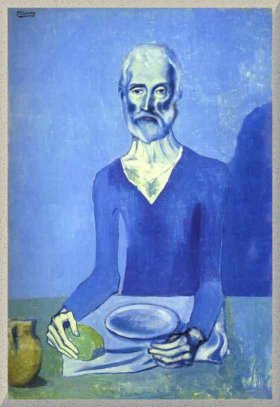 "L'Ascète", 1903 – Pablo Picasso (1881-1973)
If one is too severe in setting up restrictions, people will not endure them. The more consistent such severity, the worse it is, for in the long run a reaction is unavoidable. In the same way, the tormented body will rebel against excessive asceticism. On the other hand, although ruthless severity is not to be applied persistently and systematically, there may be times when it is the only means of safeguarding against guilt and remorse. In such situations ruthlessness toward oneself is the only means of saving one's soul, which otherwise would succumb to irresolution and temptation.
9 – Nine  Hsiao Ch'u / Gentle Restraint
Winds of change high in the Heavens:
Air currents carry the weather.
Dense clouds blow in from the West, but still no rain.
The Superior Person fine tunes the image he presents to the world.
Small successes.
SITUATION ANALYSIS:
No matter what you do, the fruit of your labors never seems to ripen.
Your reward remains just out of reach.
Men have gone mad from such anticipation.
Don't lose your balance lunging for the brass ring.
While the Fates continue to restrain you, go them one better and display a self-generated restraint and grace.
Look for the humor in the situation.